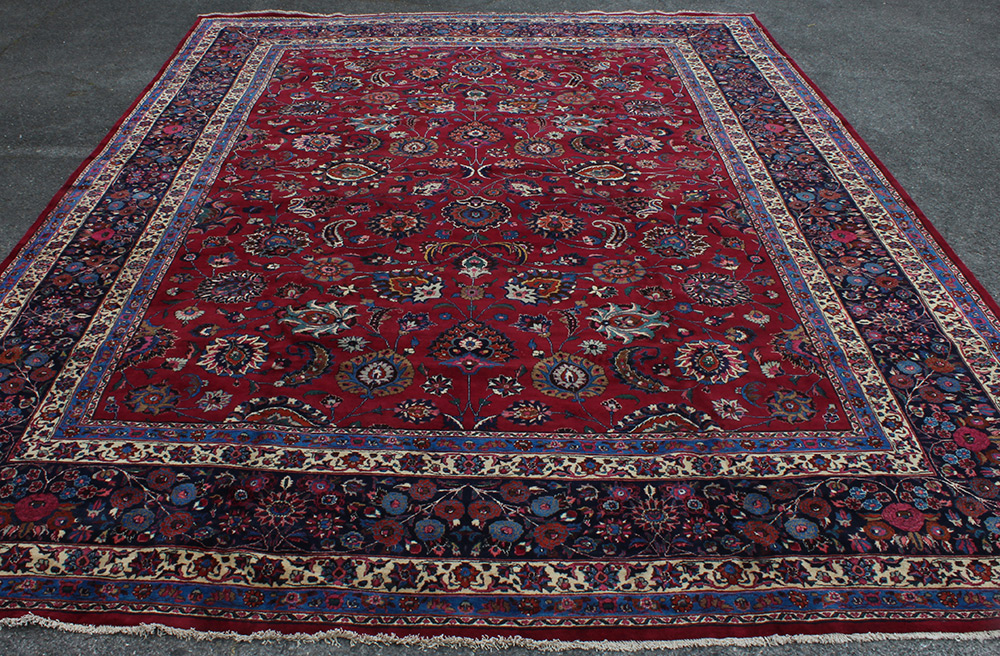 David Kenwright
---
Dear Yari, I should like to thank you for sending me the large antique Persian Mashad carpet that I purchased when visiting your store.  I was very impressed with your stock of oriental carpets, and  am really pleased that you were only about half an hour from Heathrow airport by car, as it enabled me to come in person to see it when I was traveling to London. The carpet arrived in Scotland within two days of being dispatched, and was very well folded and wrapped up.  After unpacking it, and laying it on the floor, there was hardly a crease, and it soon looked as though it had been there for ever. Many thanks for your assistance, and I will be back in touch when we are ready for some more similar carpets in the other larger reception rooms; it was a pleasure doing business with you. Kind regards, David Kenwright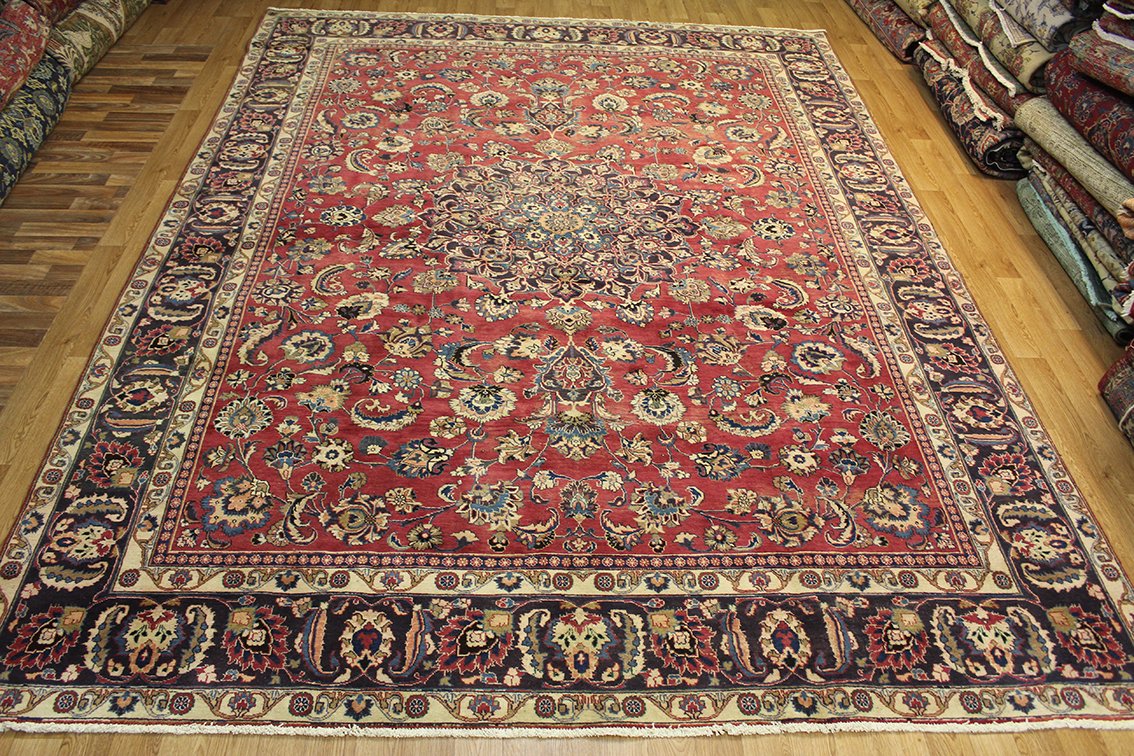 Amy Conti
---
We are thrilled with our beautiful vintage Persian Mashad carpet! The honest, genteel and personal service we received was wonderful and delivery was very prompt. We will definitely be making more purchases from Mr Younes and we can highly recommend his company and stunning array of carpets. Beautiful carpets at splendid prices! Amy Conti
Diana Sakka
---
Excellent Service and very trustworthy. Completely recommend it to others as well. I had a Persian carpet which they completely restored it and cleaned it. Now my children can play on it! Best service ever.
James Sweetland
---
We would like to thank Mr Younes for the excellent customer service we received when we purchased our handknotted Bokhara Rug last week. As we were undecided between 2 rugs, he kindly offered us to take both rugs home in order to choose which one we preferred which we found most helpful. Thames oriental carpets has a large choice of antiques and new oriental rugs and we highly recommend Mr Younes 's expertise and customer service. J. Sweetland.
Roger B.
---
I'm absolutely delighted with it. Arrived on time, well packaged. Many thanks, Roger B.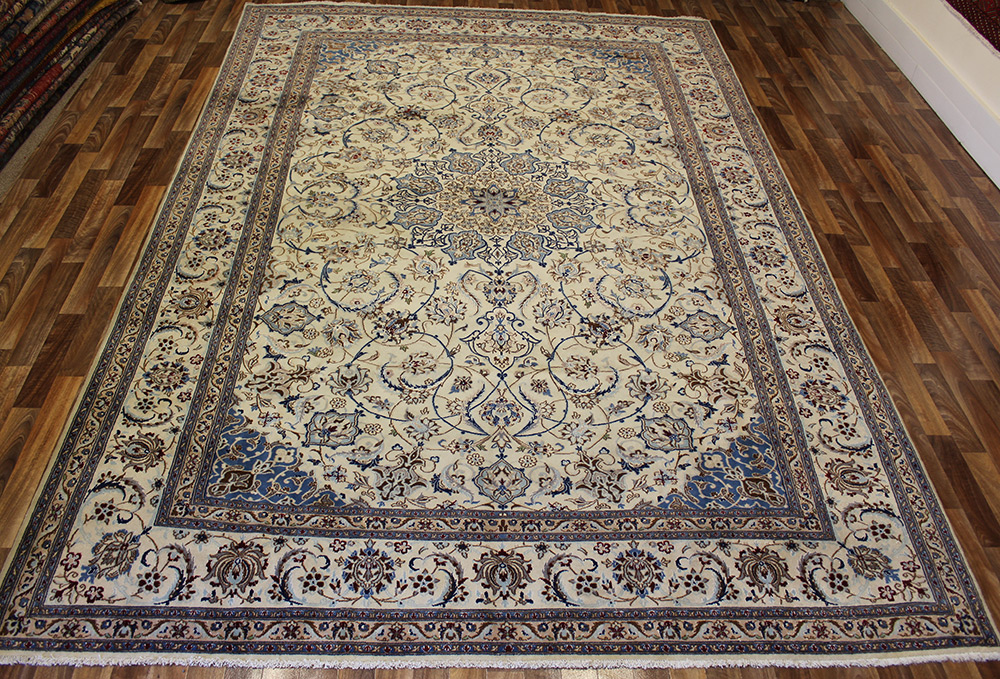 alistair abbott
---
A very good service, my large Pusian rug was collected, cleaned and returned to my home. Although not overly used it had been down for 25 years so a clean was overdue! I am delighted with the results and the cost was very competitive.
Shirley Armitage
---
Shirley Armitage

Great selection of rugs, so good we bought two! Very helpful service.
VIV DAY
---
Excellent service. Had a Persian rug left to me by my dad when he passed away- had not been cleaned for at least 30 years! This did not cause the company owner any issue or concerns. The rug is now beautifully clean and looks like it probably did new 60 odd years ago. Very very pleased with the result and the exceptionally professional and courteous service and at an extremely reasonable price. The shop itself holds some fantastic stock - well worth going to visit if you are contemplating a rug purchase. We enjoyed taking to the owner both when we dropped our rug off and when we collected. He is a very personable and knowledgable individual who knows his craft (which includes hand restoration work - we saw this first hand when we dropped by unannounced to collect). A gem of a find and we will definitely be taking another rug for cleaning and my mothers antique rug for repair.
Catherine Sadd
---
Thank you for the fantastic repair to my Pakistani runner. When to dog chewed it I was so upset I hid the carpet away for 6 weeks and couldn't bear to look at it. After a week with you and your cleaners it has come back better than new. My husband and I very much enjoyed talking to you about the beautiful rugs you have for sale and will definitely be back to buy when we get around to redecorating. Your store is a real find and I'll be looking to recommend you wherever I can. Catherine Sadd
M. Wager
---
Thank you for the prompt repair to our rug, it looks very good &we are pleased with it.
Eva
---
Really lovely job & very professional service. the rug that we had cleaned came up sparkling and looking like brand new. The tough stain was no stain & there was no trace. Brilliant job & great value for money. Fully recommend the services! Thank you.
Susan
---
My rug had been in a suitcase in the attic for over 20 yrs. It had candle wax and mould on it. It has came back in fabulous condition after cleaning and I am delighted. The service was prompt and knowledgeable. Well done!
Renee' platfoot
---
My 30 years old indian rug needed a little TLC & a clean. Excellent work has came back as good as new. I will recommend Younes to all my friends.
Mrs Karen Merrin
---
I gave them my very expensive rug that had never been cleaned in 15 years. it came back looking like new. It was amazing, would recommend them to everyone.
Mrs Sara Shevenell
---
My rugs were looking very ragged & tired; Yones has brought new life to them. they are gorgeous, very prompt & reasonably priced.
Mrs Yuonne Sargeant
---
One small rug cleaned very well. Thank you
Andrew Horton
---
Two rugs have been cleaned very nicely and look good.