Often you will find that your rugs fringes are beginning to fray and looking rather untidy. This is just about the right time to get those worn fringes repaired and secured again. Repairing fringes of rugs early is a straight forward process and less costly than full rug repairs.

Binding the Edges of Rugs
Persian Nain Rug with a damaged side.
This Persian rugs side cord was damaged by a puppy. As expected the owners were very upset to see their nearly brand new rug in such a state. Repairs to rug were carried out here in Marlow Bottom, at our rug repairs studio and the results were excellent.

Restoration of badly damaged valuable rugs.
Major Rug Repairs

Repairing rugs with a considerable amount of damage is a challenge and we can restore any rug to its former glory. damage Rugs left with us will benefit from our repair expert's artistic skills and creativity. From matching the colours to matching the type of wool used is very important, where possible we will use wool reclaimed from old rugs and kilims to carry out repairs in old rugs .
Indian Rug Restoration
 "This rug was probably woven in the vicinities of Lahore, India in the 1890s. It is huge, 12 feet by 16 feet, and a finely knotted antique rug. Unfortunately, for an extended period sometime in the past, the moisture of the flower pots placed on this rug gradually caused two large dry rots, which disintegrated the pile along with its foundation.The artistic recreation of the 16th century Safavid-Persia and Mughal-India hybrid designs, the superb quality of the woolen pile dyed with natural colors, and the softness and overall pliability make this rug so unique and precious, and worth saving.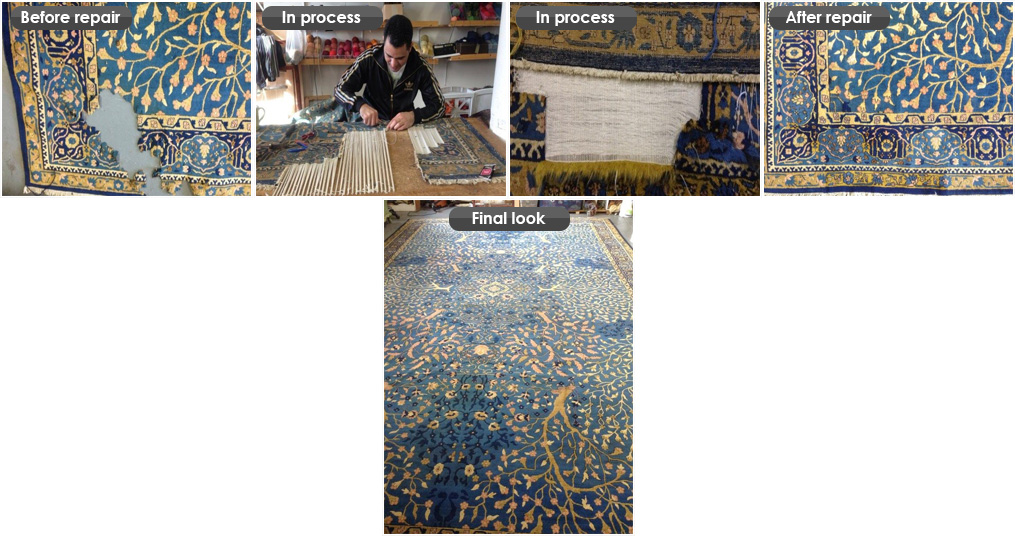 Our oriental rugs Restoration service is very comprehensive and includes:
Invisible repairs to holes, burns and tears

Repair and restoration of frayed edges and fringes - selvages and stoppers

Re-weaving and re-piling of worn areas - often due to moth

Full restoration of damaged rugs - be it fire, water or spills

Exact colour and wool match - important when dealing with antique rugs

Fixing curled edges and corners by applying faux leather strips

Stretching and size alteration

Water damage - restoration of colour

Odour removal from pet staining

Mould removal